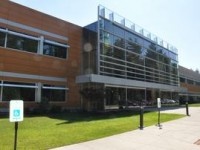 来源:|作者:pro7b2e01
Mark Little, head General Electric's global research complex in Niskayuna, New York, says the GE Fuel Cells startup positions the company to commercialize an alternative energy source that can be used to power industrial data centers, residential communities and developing countries.
One month after announcing the GE Fuel Cells startup, Little joined engineers, GE executives and politicians to give a look inside the company's new pilot plant in Malta, New York.
"We're on the forefront of another revolution in power generation," Little said. "GE has taken the next critical step in bringing energy solution to commercialization."
At the event, GE also announced its partnership with Hudson Valley Community College. Hudson Valley, a community college in Troy, New York, will work with GE to develop a hands-on fuel cell technology curriculum. GE will install a 50-kilowatt fuel cell power generation system at Hudson Valley's Tec-SMART campus in Malta.
Fuel cell research grew out of the GE Global Research lab in Niskayuna. The fuel cell startup has hired 22 mechanical, manufacturing and electrical engineer employees. Some of the scientists who helped develop the technology are now working to commercialize it.
The fuel cells eventually will be able to produce 1 to 10 megawatts of power. One megawatt can power 1,000 homes.
GE Fuel Cells is located in the Saratoga Technology + Energy Park in Malta. It has 20,000 square feet of manufacturing, research and office space.